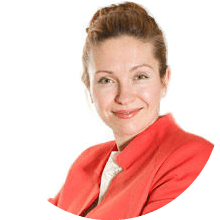 RCIC Anna Shultz – Tkachenko is a licensed member of the ICCRC (Immigration Consultants of Canada Regulatory Council) in good standing. Having immigrated to Canada herself, she has a unique understanding of the needs, concerns and fears of moving to a foreign country. Anna's mission is to simplify the Canadian immigration process, and with her help and guidance, bring you closer to your Canadian Dream.
Firebird Consultants Group makes every effort to create Canadian immigration easier by empowering businesses and families to make smart and informed immigration decisions. With a proven track record of providing first-class client services, RCIC Anna Shultz – Tkachenko is qualified to help you, or your business navigate the Canadian immigration system.
Anna is a certified career coach and lead consultant for Get Ready for Canada, a career coaching firm located in the Okanagan Valley in beautiful British Columbia. Specializing in employment and career services, her practice incorporates career strategy and development. She helps her clients embrace and discover opportunities to redefine, and fully develop their career goals in a way that matches their personal aspirations. Also, she has a particular expertise in assisting international students and work permit holders identifying qualified jobs in Canada and completing immigration.
Anna successfully immigrated from Ukraine to Israel and then to Canada. She is personally aware of the challenges and opportunities a person is facing during all the stages of the immigration and settlement.
Professionally trained and certified as a coach through the Career Development Practitioner program from Simon Fraser University. Additionally, trained in Job Development by Life Strategies, Anna has been providing coaching and counselling services for over 7 years. Her clients range from entry level to senior-level management professionals from all over the world in industries such as Informational Technology, Construction, Accounting & Finance, to name a few.
Anna holds a Master's Degree in Engineering and diploma in Informational Technology and Communication Design. She also presents workshops and seminars for organizations looking to enhance their career development paths for employees. Anna was also a member of the International Rotary Club of Kalamalka, Vernon, BC and in 2017 was recognized as a Multicultural Community Champion.
If you are looking for a Russian Immigration Consultant in Vernon, Kelowna, Okanagan or Canada – contact her today.
"I believe that a successful immigration process depends on a genuine relationship between the client and their immigration consultant. I treat others the way I want to be treated."- Anna Shultz-Tkachenko